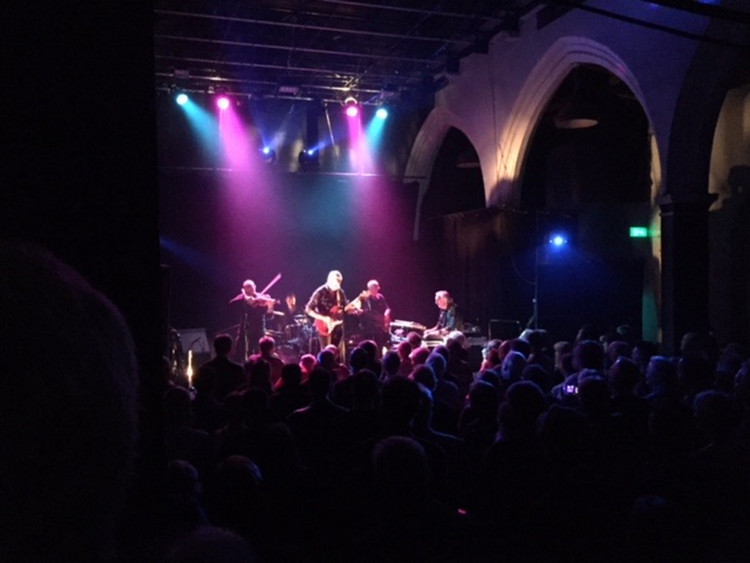 Opening proceedings, local four piece Guranfoe do a sterling job of warming the crowd up with their set of Zappa and Crimson referencing jazz-rock.
I enjoyed a lot of this set, particularly the heavier, more math-rock side of things, but the music did om occasion venture too far into jazz-fusion territory for my tastes.
That said, I would be more than happy to see them again and it was great to see young, talented musicians having fun playing difficult, complicated music with smiles on their faces.
A few more power chords and a bit of feedback and I would be hooked but, hey, that is just my love of post-rock and shoegaze coming out...

And now for the main event and Caravan.
I am not a young man and these days it a rare band that formed before I was born.
Caravan have – a few hiatuses aside - been playing in one form or another for five decades and are rightly celebrating on this 50th anniversary tour.
It has been a good few years since I last listened to the only album I own by them - In the Land of Grey and Pink - and I am here tonight because I have been told I just must see Caravan.
I don't know what I was expecting really. What I got some really rather good classical, jazz and even folk-inflected progressive rock from these stalwarts of the Canterbury Scene.
Caravan are the consummate, supremely talented musicians that I expected.
Yes, what they play is very much in the prog vein but this wasn't just musicians showing off their chops for the sake of it.
The playing was always in the service of the songs, always delivered with melody and structure by five guys who are having fun.
It certainly wasn't dour, serious, po-faced or ludicrous in the way that some prog can often be.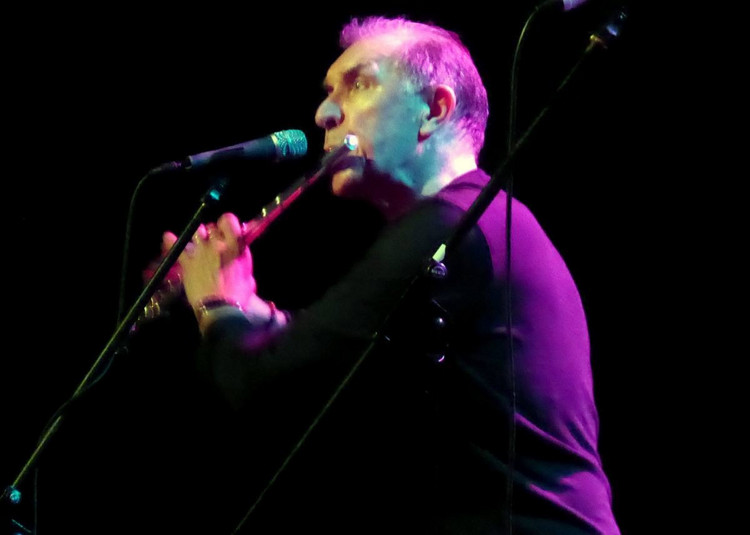 The only original member is Pye Hastings on vocals and guitar.
His singing voice is not what it could be – which is down to a cold, rather than anything else – but his playing is superb.
Having only one original member is not an issue though because, drummer aside, this line-up has been playing together on and off for decades.
Alongside Hastings is Geoffrey Richardson on guitar, viola, violin, flute, mandolin, recorder and spoons (yes, spoons).
As someone who has been stuck on page 3 of "How to Play Guitar In A Day" for the last 30 years, Richardson is almost unbearably talented.
When he is not playing superb piano runs that verge at times on boogie-woogie, Jan Schelhaas somehow makes his thoroughly modern keyboard set up sound like a vintage Hammond.
Jim Leverto's bass isn't just a rhythm instrument but was instrumental (no pun intended) in creating melodies and the occasional lead line.
New boy Mark Walker has "only" been in the band for eight years. His drums and percussion are free-flowing and inventive.
If I have a criticism, it is that my mind did wander a little during some of the extended musical interludes but that wasn't necessarily a bad thing.
This was certainly a good gig for people watching! I mean, there was the distinctly unexpected sight of not just one or two but three Charlie (UK Subs) Harper lookalikes along with some stupendous dancing and a bearded bear of a man singing along word perfectly to every song with a look of delight on his face.
Bringing things to a close with a heartfelt tribute to long-serving drummer Richard Coughlin, it is fair to say that Caravan delivered was two (mostly) cracking sets of classy, inspired rock music.
Good, good stuff.

Pavlis for Outlineonline.co.uk