Despite it being only 20 or so miles down the road, it's been a good couple of decades since I've been to the Met Arts Centre at Bury, or come to that, Bury itself.
The last time was to see and interview Didier Malherbe on his second visit to the town with guitarist Pierre Bensusan.
At least that's my excuse in failing to find the venue easily, despite the fact that in the early 90s I delivered there every other week, and saw numerous gigs there too.
It took a while to realise that the various bouncers, taxi drivers and other unsuspects who we'd asked for guidance were very kindly all directing us towards the 'Metro' – the tram system that takes everyone OUT of Bury.
The penny finally dropped  when we made our final wrong turn and descended an escalator towards the tram platform itself.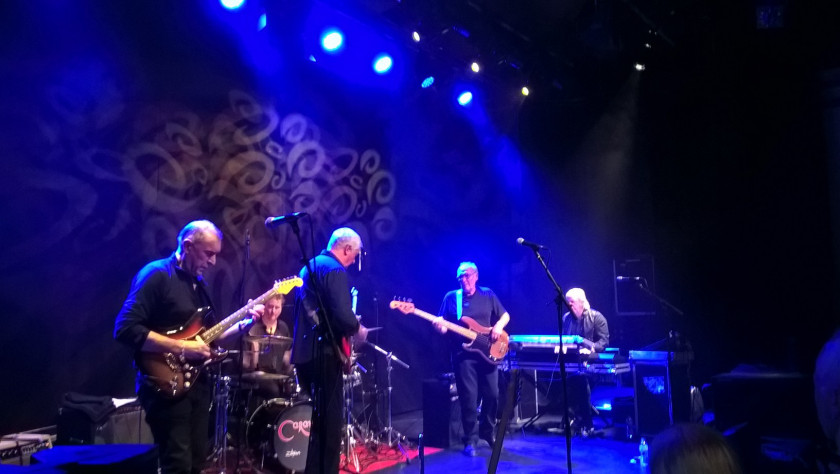 Meanwhile over the other side of the bus terminus Caravan were starting a set which would last almost 2 hours.
I'd also not seen them for over 20 years, lost a little track of what they're up to, but was intrigued to find that they were not only embarking on an 8-date tour of England, but had comfortably sold out the gig in the Met, a beautiful old municipal building split into elevated seating and a large standing area in front of it.
This band features sole original member Pye Hastings; multi-instrumentalist Geoffrey Richardson, (who pointed out that he had been with the band a mere 46 years, on and off); keyboard player Jan Schelhaas, stalwart of late Seventies line-ups; Jim Leverton, ever present on bass since the mid-Nineties; and Mark Walker, filling the drummer's seat since the death of Richard Coughlan.
As we were catching our breath, the band raced through a few old standards including 'Land of Grey and Pink' and 'Golf Girl' but for me really found their feet when starting to stretch out instrumentally – their version of 'Love in Your Eye' from 'Waterloo Lily' was quite inspired, the first time I've heard it live, and segued into the groove from 'For Richard', the first to really get the crowd moving.
The Caravan crowd is an interesting one: whilst I expect to see more earnest jazzheads at the Soft Machine on Thursday, and Gong attract a patent collection of tripped out bohos (myself included), Caravan audiences occupy a safer middle ground: middle aged couples, old rockers sporting a range of band T-shirts encompassing everything from the Stranglers to AC/DC, and small groups just out for a good night out (and providing an annoyingly noisy backdrop over the quieter numbers).
And so this set the tone for the night: a real mix of old and new tunes, ballads and extended grooves. I'd never seen Geoffrey Richardson perform before with the band – my Caravan education, like many, started with listening to the classic first three albums on LP, but for me also continued with then seeing that same quartet of Sinclair/Sinclair/Hastings/Coughlan reform in the early 90s for live gigs.
So forgive me for not previously having a first-hand appreciation how Geoffrey became the focal point for the band both sonically and visually in the mid-Seventies. Tonight he was impossible to take one's eyes off: effortlessly switching from viola, to lead guitar, to flute, to penny whistle, to mandolin – always beautiful understated interjections before moving on fluidly to the next passage.
Even that doesn't tell the whole story – amongst the most memorable moments for me were his viola picking on, I think, 'Nightmare', a solo on the spoons, or providing extra percussion elsewhere on a cowbell!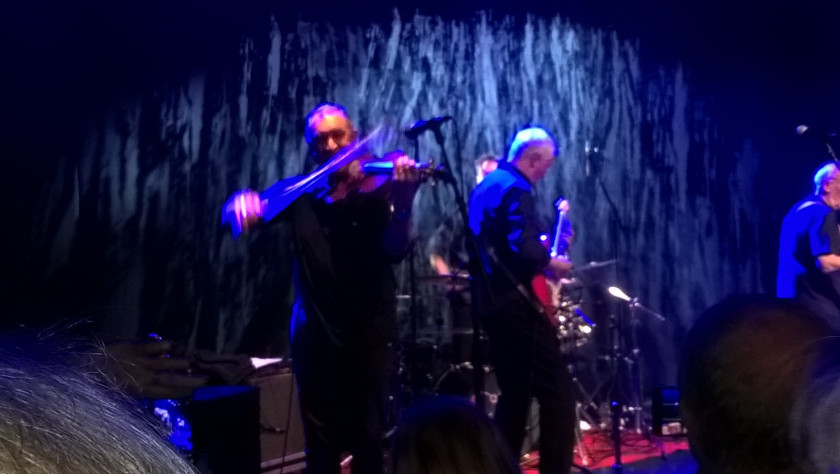 I'd been so mesmerised by the prowess shown by Geoffrey that I was almost oblivious to the talents of bass and keyboards, but increasingly as the night wore on their talents came to the fore: Schelhaas moving beyond the expected recreation of Dave Sinclair's sublime solo lines on the 'classics' to a real honky-tonk vibe, whilst Leverton, solid as a rock, produced a lovely rounded bass tone to provide the ballast on the extended numbers in particular.
Drummer Mark Walker provided a vibrant presence behind the sticks with added backing vocals – here was a man clearly enjoying himself!
I reckon on reflection that the band performed a total of 5 tracks from the new album 'Paradise Filter' – best for me was the surprising menace of 'Dead Man Walking', whilst 'Farewell My Old Friend', written in memory of Richard Coughlan, felt personally poignant in a week when I found out about the sudden death of a friend.
Other tracks returned to the band's apparently perennial financial bad-luck ('Fingers in the Till') and, perhaps more flippantly, medical tribulations ('Trust Me I'm A Doctor').
But probably the best was saved to (almost) last with a superb and unexpected version of the aforementioned 'Nightmare' plus the rousing finale '9ft Underground' – as good as ever.
It was mentioned that Caravan are a mere 6 months away from collectively celebrating their 50th birthday – it all started at the Beehive in Canterbury, the location of which was pointed out to me in my trip down there last month. Plans are afoot for a celebration. 

Review by Phil Howitt for Facelift

Thanks to Geoffrey Richardson for enabling me to get to this gig after a bout of personal incompetence!