For Girls Who Grow Plump 40th Anniversary UK Tour

Went to see Caravan at the Sage Gateshead last night.
I can't pretend to be a big fan, or to know much of their material but I enjoyed the gig much more than I expected.

I first saw Caravan in the early 70's at Sunderland Locarno.
I'd seen them on Top of the Pops performing "If I Could Do It All Over Again, I'd Do It All Over You" and remember them playing that song, which probably places the gig around 1971.
This would have been the classic Caravan line up of David Sinclair, Richard Sinclair, Pye Hastings and Richard Coughlan.
A later gig, which I attended was at Newcastle City Hall in 1977. Caravan were promoting their latest album "Better by Far" at the time.
Support came from Nova, who were an Italian progressive rock/jazz fusion band. I recall there being quite a bit of publicity around Caravan at the time.
They had moved to a new record label, the new album was produced by Tony Visconti, and they embarked upon a tour of concert halls which took them around the UK.
The line-up had changed considerably from the early days, with only Pye Hastings and Richard Coughlan remaining from the original band.
I recall that gig as a night of pleasant melodic rock, with tracks from the new album which were much more poppy than their earlier material.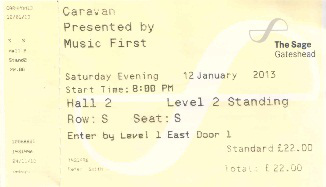 The set at the Sage last night was drawn from "For Girls Who Grow Plump In the Night" and "Land of Grey and Pink" albums.
The gig was in Hall 2, which is the smaller hall, and was packed with a very appreciative crowd of fans.
I didn't recognise any of the material; the only Caravan tracks I remember are "If I Could Do It All Over Again, I'd Do It All Over You" and "For Richard".
Not being familair with a band's material usually makes a gig boring for me, but I found last night pretty enjoyable.
Caravan's music has always been difficult to categorise, blending rock, prog, jazz, and folk.
The latest line-up is original member Pye Hastings – guitar, vocals; Jim Leverton – bass; Geoffrey Richardson (who has been with the band since 1972) – guitar, viola, violin; Jan Schelhaas – keyboards and Mark Walker – drums, percussion.
Some beautiful violin playing, and some nifty spoon antics, from Geoff, and Pye's vocals held up well considering that he was suffering from the "lurgy".
The last track was the very long "Nine Feet Underground" which went down well with the crowd.
A nice concert by a legendary band.

Setlist
Memory Lain, Hugh / Headloss
In the Land of Grey and Pink
Smoking Gun (Right for Me)
The Unauthorized Breakfast Item
L' Auberge du Sanglier / A Hunting We Shall Go / Backwards
The Dog The Dog, He's At It Again; Golf Girl; Nightmare
Fingers in the Till
Chance of a Lifetime
Nine Feet Underground.

Review by Vintagerock