Once upon a time, in a galaxy far, far away, the Jules Rimet still gleamed in the trophy cabinets of old Albion, Patrick McGoohan was recognisable to the nation as Danger Man John Drake rather than some arsy bloke being pursued across a Welsh beach by a weird white ball, and Harold Wilson was the dynamic, thrusting young politician thrilling the body politic. Around the same time, although Swinging London was grabbing all the headlines and covers of Time magazine, the Canterbury scene was also a seriously happening event. Although – as with many 'scenes' – revisionist history questions whether it was indeed any kind of scene at all, or merely a lazy journalist tag used post facto to lump together a diverse range of bands, some of whom were barely tied to Canterbury at all, it was nevertheless true that its central musical ur-source – The Wilde Flowers – went on to undergo a glorious mitosis that resulted in not one, but two, legendary bands.

The first was The Soft Machine, formed by former Flowers Robert Wyatt and Kevin Ayers, whose beguiling mixture of jazz, rock, psychedelia and more besides continues to inspire well into the twenty-first century and still finds new converts daily, some half century after their antics mic-ing up motorbikes and riding them around the inside of The Roundhouse at the launch party for IT *) (generally reckoned to be the first ever rock gig in Camden and described by Daevid Allen as "one of the two most revolutionary events in the history of English alternative music and thinking"). a progressive rock band who never played prog.

The other band was Caravan, no less thrilling, innovative or idiosyncratic than The Soft Machine (indeed their second album In the Land of Grey and Pink is often cited by the cognoscenti as the definite Canterbury sound album), yet whose profile remains somewhat overshadowed by their better-known peers. Caravan were, and remain, something of an enigma: a progressive rock band who never played prog, a "serious" album-based outfit who could nevertheless write the catchiest of pop songs, and ludicrously talented instrumentalists who steadfastly refused to show off that instrumental talent even during the era when it was positively de rigeur to do so.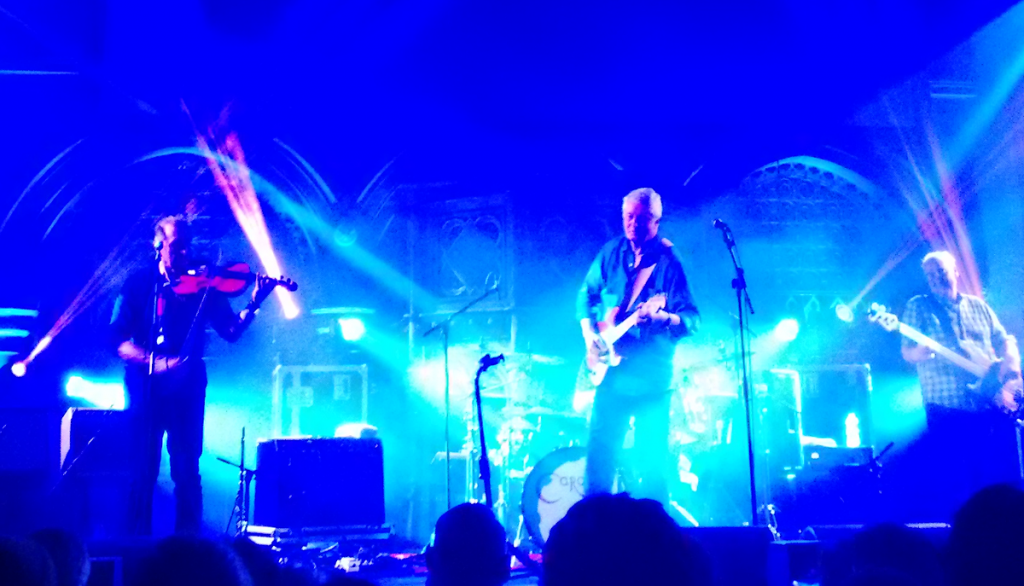 Nowhere is this more succinctly summarised than in the person of founding member and group constant, Pye Hastings. Rarely will his name ever trouble lists of "greatest guitarists" in glossy music magazines, but he is exactly that, a player of rare touch, totally unique style and tremendous precision. The two early masterpiece Caravan albums, 1970's If I Could Do IT All Again, I'd Do It All Over You and the aforementioned In The Land of Grey and Pink from the following year, contain almost no lead guitar whatsoever. WTF? At a time when the fretboard heroics unleashed on an unsuspecting world by one JM Hendrix, Esquire were being replicated hourly onstage and in bedrooms across the developed world by legions of long-haired young men, Pye Hastings was doing nothing of the sort. Indeed, his chord-based song-centred playing is more akin to the kind of guitar styles that started to become the norm a decade later. the quirky rhythms, the economy of the playing and their pop sensibility.

Perhaps his resolute stance of refusing to try and dazzle is the reason for his absence from such "greatest guitarists" lists, but it is also one of the factors that account for the temporary impregnability of those early albums. They do not sound dated, because in many ways they do not sound particularly of their time. True, the fuzz organ tones do perhaps speak of the period, but overall, the quirky rhythms, the economy of the playing and their pop sensibility place them somewhere out in a hinterland of their own, somewhere that time has been unable find them and oxidise their surfaces.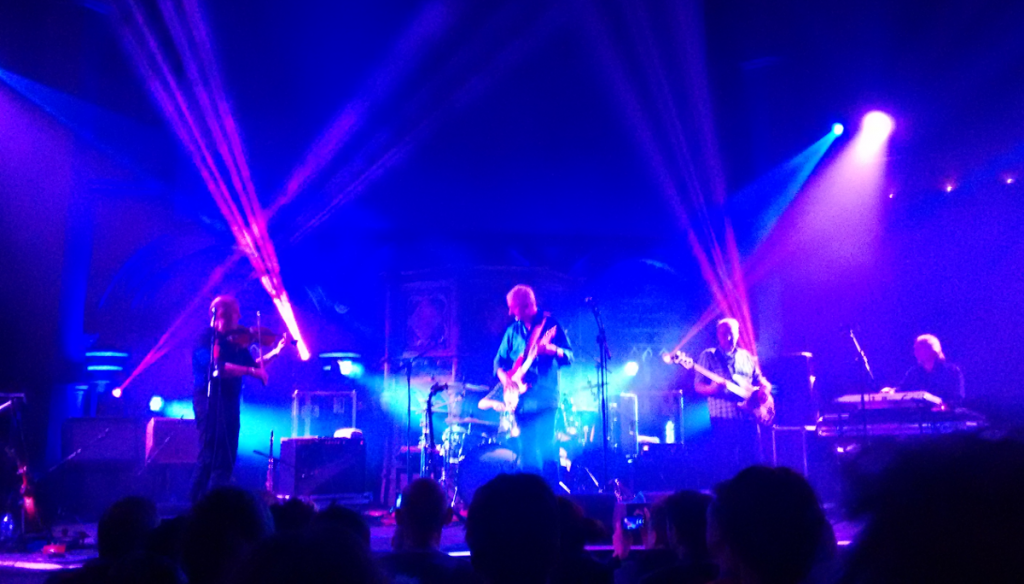 Tonight, they stride out under the vaulted Victorian Gothic arches of the magnificent Union Chapel and fire up this unique style once again. The start is distinctly troublesome, the atmosphere of the band's entrance more than a little shattered by the nasty, grumbling grimblies that have descended to utterly sabotage Hastings' pedal board. Despite a good ten minutes of tinkering, nothing seems to be able to reanimate the recalcitrant equipment, and so Hastings makes the deliciously impromptu and Devil-may-care decision to junk it, plug right into the amp and say to Hell with it. Who needs it? their sound is fresh, urgent and, blimey, even a little aggressive.

Once started, though, Caravan quickly and firmly dispel any notion that this will be a gentle run-through of the English pastoral style of yesteryear – their sound is fresh, urgent and, blimey, even a little aggressive. Newly arrived (a mere half-decade) drummer Mark Walker is at the centre of this, his dynamic and muscular style giving some real power to the music, all produced with a genuine smile on his face. There's something really touching about someone who is so obviously into what he is playing, and that kind of enjoyment cannot help but become infectious. Bassist Jim Leverton, whose bonkersly expansive four-string CV takes in stints as a sideman with everyone from Steve Marriott to Leo Sayer (!), may these days look a little like an extra from Steptoe and Son, but by Christ, his playing has withered none. Combining with Walker, this is a rhythm section which could play The Shacklewell Arms tomorrow night and not sound out of place.

Jan Schelhass (actually a Scouser), first hooked into the Caravan trail in the mid 1970s, replacing original keyboardist Dave Sinclair, and tonight mixes vintage organ with delicate piano, all with the kind of impeccable restraint typical of the band. No ELP– style keyboard excess here, merely tone, texture and the kind of emotion that can only come from modern music's foundational instrument. Stage left is the magnificent and Puckish figure of multi-instrumentalist Geoffrey Richardson, whose on-off tenure with the band dates back to 1972, and whose instrumental skill is simply staggering. Whether on violin, flute, guitar or even spoons (more of that in a minute), virtuosity oozes from every note. Yet, as is always the case with Caravan, it is never cloying, never for its own sake, and never, ever excessive. At one point, during "Nightmare", he takes the violin and plays it guitar-style. OK, fine, that's been done plenty before – what of it? Maybe, but having seen everyone from Simon House to Yehudi Menuhin play this instrument, no-one plays it like this, wringing from it an exquisite, mournful, blues-y solo. Absolutely extraordinary, modulating from the most gossamer threads to the full-on riffing.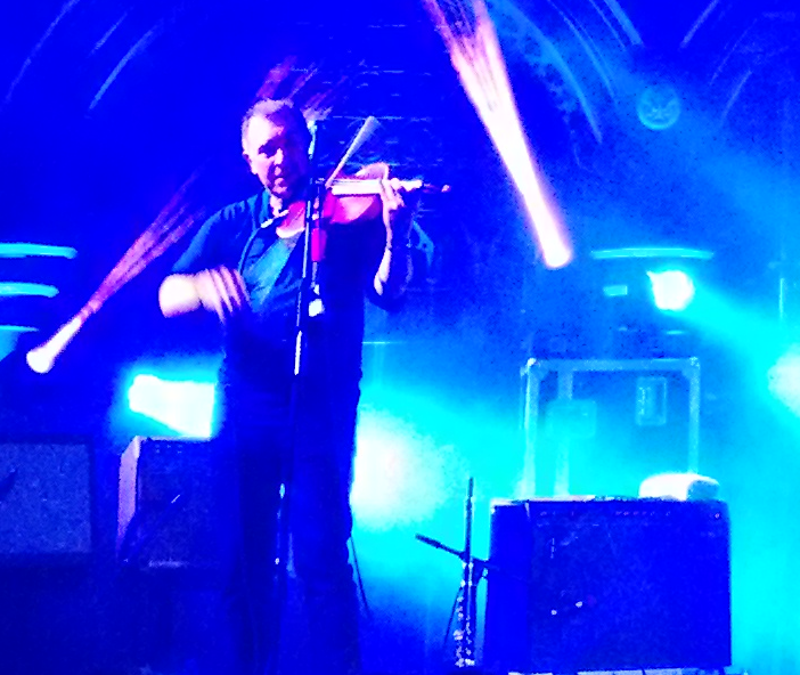 Tonight's set is a pleasing mixture of old and new. "I'm On My Way", "This Is What We Are", Western-style "Dead Man Walking" and title track "The Paradise Filter" come from the recent 2015 album, set opener "Headloss" from 1973's For Girls Who Grow Plump in the Night, 1977's glorious "Nightmare" and a generous smattering from In the Land of Grey and Pink. The set closes with all twenty-two odd minutes of "Nine Feet Underground", the epic song cycle written in a Kentish basement, modulating from the most gossamer threads to the full-on riffing that propels it irresistibly to its conclusion.

Called back for an encore by a wall of applause that reverberates around the stone walls of the venue, the band launch into original bassist Richard Sinclair's pop-rock classic "Golf Girl", with its age-old story of boy meets girl, boy purchases tea from girl, girl protects boy from a hail of flying golf balls. As with fellow album track "Love to Love You (And Tonight Pigs Will Fly)", it's hard to bring to mind any other band of that time that could have produced such a song. Not only could Caravan play the most appealing non-prog prog, but they could toss out a classic pop melody like none of their peers. As All Music once said of "Golf Girl", it "emerges as the kind of song that remains stuck in your head for days after you hear it, no matter how many more records you play immediately after". Richardson breaks out the spoons – the electric spoons – and takes the solo.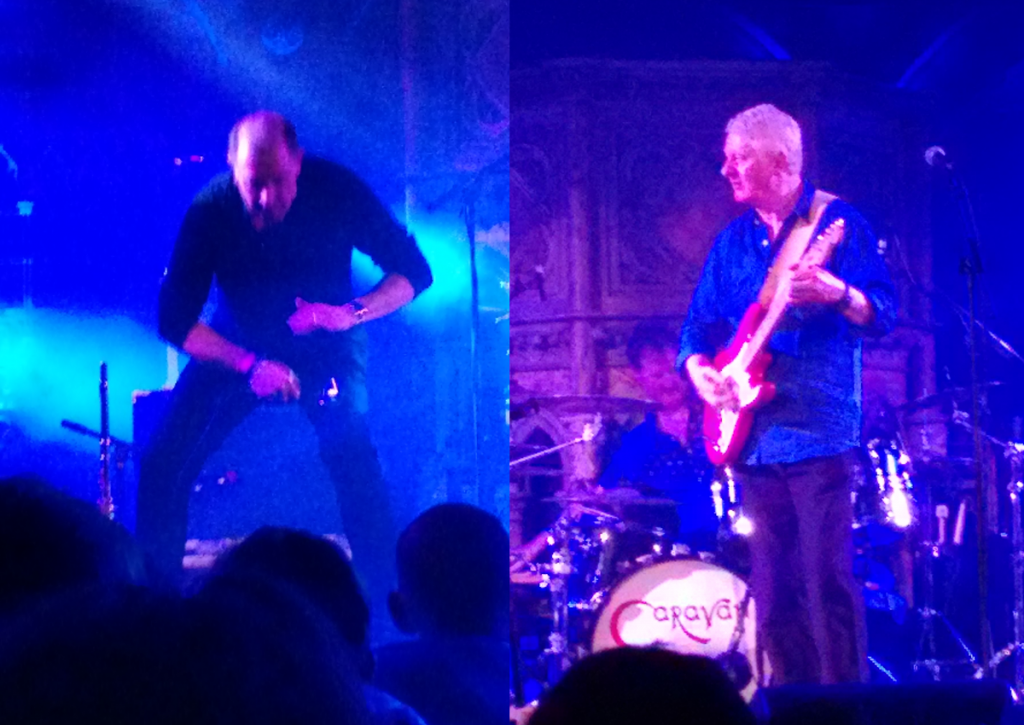 For a bit of a parting party piece, Richardson breaks out the spoons – the electric spoons – and takes the solo. Playing the spoons isn't something one sees done much anymore, redolent as it is of an era of Anderson air raid shelters, Spam and singing along to Flanagan and Allen to keep your spirits up. Richardson makes it sound ridiculously good (I particularly liked the rolls played inside the elbow), and by the time it all finishes I feel more than ready to join the Home Guard and stand atop a hexagonal concrete pillbox near Dover in the driving rain, binoculars trained unwaveringly on the English Channel.

As might be expected from Caravan, the collective bow is modest and understated, before the band amble amiably from the stage, Pye Hastings giving a last cheery wave of farewell.

The Canterbury scene – it's sooooo 2016.

*) For which they received the princely sum of twelve pounds and ten shillings.

Review by David Solomons