On show at this gig two bands that play on the fun and folk side of the progressive rock spectrum and who both at times include jazz elements to their sound. Opening proceedings the elegant and uplifting Solstice with a flowing set based around the soaring guitar work of Andy Glass. For me the band were one of the highlights of last years Progeny 3 Festival also held at The Assembly and here again they had the audience spellbound with their performance. Strong in all departments Solstice make you happy just watching them perform, playing with such smiles on their face's that you cannot help but get into the spirit (pun intended) of the set.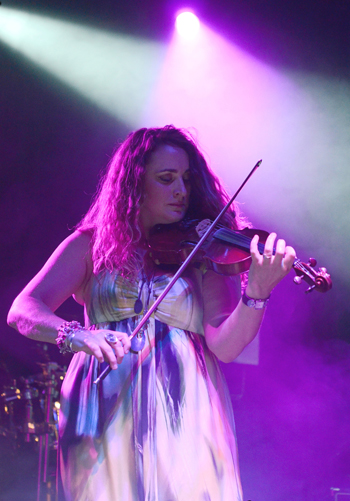 Standouts included atmospheric opening number 'Morning Light' and 'Oberon's Folly' the latter a number from their latest studio album Spirit started with a hauntingly beautiful Celtic style (would have been perfect for The Lord of the Rings soundtrack) vocal section by the outstanding Emma Brown, before layers of fiddle and guitar added to the mix. The main highlight of the set for me and again from the Spirit album the majestic 'Flight', for half its length a light and breezy feel good number which then broke into heavy rock territory with Ritchie Blackmore style Eastern guitar supplied by Andy Glass, a guitarist of the very highest quality, a gem of a number. Just about a faultless set by a superb outfit with the outstanding fiddle work of Jenny Newman and keyboard flourishes of Steve McDaniel all adding to the bands magical sound.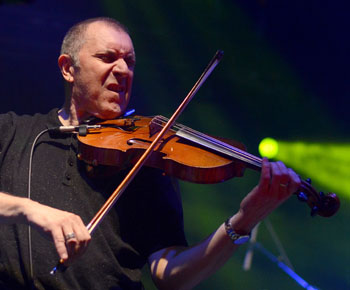 Headliners Caravan have a rich musical heritage, formed in 1968 they have had several periods of inactivity over the years but are back entertaining audiences and this year sees the 40th anniversary of the famous 'In the Land of Grey and Pink' album. As with the openers Solstice this was an uplifting display and I was very impressed with how upbeat a set the band performed, only managed to catch a little of the bands performance at the Cambridge Rock Festival this year (loved what I heard though) so it was a real treat to catch their complete show. Another element of their performance I really enjoyed was the often humorous, clever, and very British lyrics (including plenty of references to tea).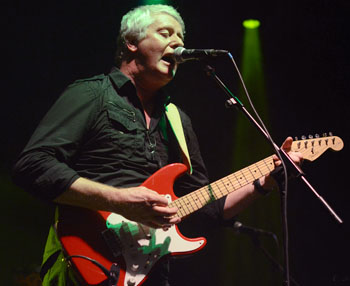 Up front founder member Pye Hastings on vocals and guitar, (first class on both) and multi instrumentalist/multi talented Geoffrey Richardson (viola, flute, guitar and spoons) had the audience in the palm of their hands. Being the 40th anniversary most of the 'In the Land of Grey and Pink' was performed including the fun quirky 'Golf Girl', the surreal title track (the audience encouraged to help on baby bubble blowing noises!), and the album's epic number 'Nine Feet Underground' a 20 minute plus masterpiece with numerous sections incorporating many musical styles. Other set highlights 'Smoking Gun (Right For Me)' with its opening rocking guitar and powerful drum work from Mark Walker (also played a mean washboard elsewhere in the set) which turned into a foot tapping, catchy pop/rock number and a stunning 'Nightmare' which included beautiful viola work from Mr Richardson. Caravan's performance closed with another visit to the the Grey and Pink with the cheerful 'Love to Love You (And Tonight Pigs Will Fly)', ending a first class performance, musicianship of the highest order from a band that also has an outstanding rapport with their audience. A quality show, two superb bands who produced an evening of pure musical delight.

Review and photos by Andrew Lock