In an age when it is common for bands of a bygone era to reform, Caravan have never actually gone away. Admittedly their halcyon period was in the 1970's, but since then, apart from the odd hiatus, they have bubbled away in the background, popping up every now and again with a new album or tour, however, since the release of Paradise Filter, their first studio album in a decade, late last year, now could be the time for Caravan to step back up to the plate. On April 14 at The Sage in Gateshead they did just that, in glorious style.

The set, as expected, covered most of the new album, but there was enough old material slotted in alongside to keep the older diehard Caravan fans happy! One criticism I have heard of the new album is that the songs are all relatively short compared to the band's usual predilection of recording songs in excess of 15 minutes. No such complaints tonight, however, as the shorter songs were expertly balanced by longer extended workouts such as Nightmare, For Richard and the excellent set closer Nine Feet Underground.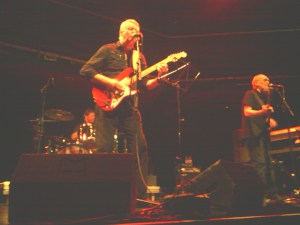 From the jangling guitar opening of newby, All This Could Be Yours, it was unmistakably Caravan in all of their glory! Pye Hastings iconic and instantly recognisable voice and infectious rhythm guitar playing lends that classic Canterbury sound to the new songs, which sound even better live than on album, having a slightly heavier edge and more energy than their studio counterparts. A lot of that energy can be attributed to drummer and 'carer' (Pye's words) Mark Walker, who has stepped magnificently into the late Richard Coughlan's shoes. If the audience were enjoying themselves, that was nothing to Walker, who spent the night grinning from ear to ear and bouncing up and down on his stool, obviously in his element. His drumming is tight, as well as flamboyant with all the right fills in the right places without sounding flashy.

Bass guitarist Jim Leverton was as solid as a rock all night, and keyboard player Jan Schelhaas was outstanding, if seeming a little way back in the mix at times, but the undoubted star of the show was the 'venerable' (Pye again) multi-instrumentalist Geoffrey Richardson. He slipped effortlessly between violin, flute, mandolin, guitar and at one stage electric spoons, effortlessly that is apart from one moment when he appeared to lose his plectrum, but he recovered with aplomb! Some of his violin work was nothing short of exemplary, and his spoon playing, dueting with Mark Walker on washboard, at the end of Golf Girl proved that the band have not lost any of their quintessentially English whimsy. He even managed to incite a bit of audience participation in a rather sprightly version of In the Land of Grey and Pink.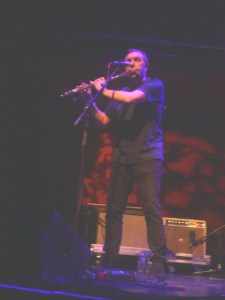 A very poignant moment came as Pye sang the beautiful Farewell My Old Friend, which could have been written for Richard Coughlan, but was in fact, as Pye revealed, composed a short time before his death. Fittingly, this was followed by an excellent rendition of For Richard, in which Walker, again excelled himself behind the kit.

As the closing notes of Nine Feet Underground faded away and the band left the stage to rapturous applause, it was evident that the enthusiastic crowd were not going to let them off that easy. A few minutes later with the applause not diminishing, they returned to the stage for I'm On My Way and a rousing rendition of old favourite, Memory Lain to round off what had been a magnificent night. After nearly two hours on stage the obviously delighted band took a bow in front of a very appreciative North East crowd who, to a man, were on their feet!

Review and photos by JonB52