This double helping of Caravan and Curved Air was a musical triumph with both hope and anticipation fully realised and at times exuberantly surpassed. And on a night when the passing of time apparently stood still for three and quarter blissful hours, both bands stepped up to the plate. Curved Air arguably played their best show since their reformation and Caravan eloquently restated the case that there simply is no substitute for their blend of compositional substance, musical brilliance and hippy whimsy.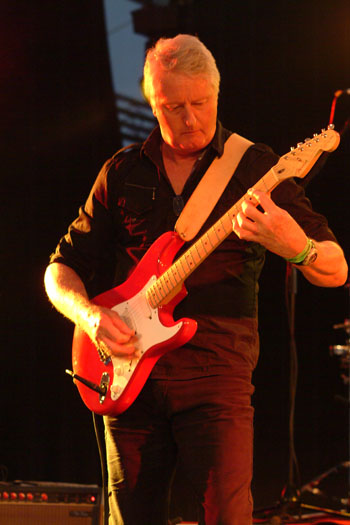 Frontman Pye Hastings projected a civil servant's style demeanour leaving multi instrumentalist Geoffrey Richardson to cut through the stasis

It's been a good 12 months for Caravan. After years of being dormant they reformed for the ITV Legends concert and have since exploded back on the festival circuit at both the Cambridge Festival and High Voltage. Not content with that, they put themselves under added pressure by recording tonight's pivotal London show straight to CD. Perhaps with that in mind and in sharp contrast to Sonja Kristina's early theatrical hippy shapes, the band initially seemed rooted to the spot in studied concentration. Frontman Pye Hastings projected a civil servant's style demeanour leaving multi instrumentalist Geoffrey Richardson to cut through the stasis with a whirl of activity including his role as an MC. But it was the music not the absence of charisma that held sway as the hunched keyboard player Jan Schelhaas provided melodic colour and fluid runs while drummer Mark Walker was a muscular powerhouse.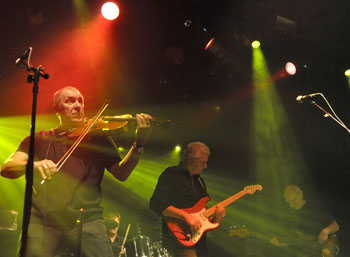 The end result was a magical night with the band dipping into 'In The Land of Grey and Pink' and 'For Girls Who Grow Plump in the Night'. And despite the absence of dope in the air, much of the audience nodded along in appreciation and partial familiarity, while occasionally struggling to remember exactly which songs they were listening to. The familiar 'In the Land of Grey & Pink' was a notable exception to the above as the band explored some dreamy, proggy and melodic vistas. 'Memory Lain, Hugh' was equally impressive being propelled by tightly structured riffs and 'Golf Girl' made use of the unlikely percussive talents of Richardson on spoons and drummer Mark Walker on washboard. And while the musicianship was inspiring - especially Geoffrey's violin work - it is still Pye's inimitable vocals that sets Caravan apart form their peers.

His delicate vocals meandered, gently rose, hovered and caressed the music to bring wry expression to some clever lyrics. Bass player Jimmy Leverton also periodically emerged from the shadows to add some integral backing vocals and another essential layer to some meticulous arrangements. Significantly the 'newer' material such as the poppy 'Smoking Gun (Right For Me)' sat well in between the older outings, albeit it sounded a little like Mark Knopfler without the band's normal whimsy, but still delivered a catchy hook. 'The Unauthorised Breakfast Item', was another newie (a mere 7 years old) and was the kind of funky workout that might have come from Geoffrey Richardson previous association with Quantum Jump. But for me the highlight was 'The Dog, The Dog, He's At It Again' with its mellifluous melodic sweep and Pye's magnificent vocals, while the suite 'Nine Feet Underground' provided the perfect finish and showcase for the band's virtuosic strengths.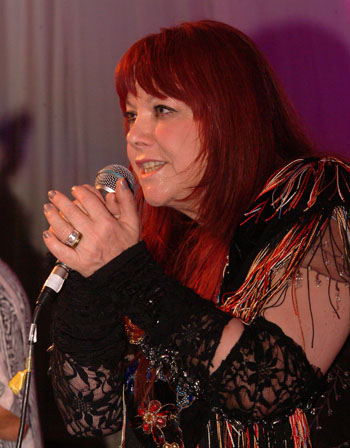 Guests Curved Air played for well over an hour with Sonja Kristina in fine voice and clearly relishing the occasion with some nifty dance steps. She hogged the spotlight on the acoustic 'Melinda (More or Less)' and the gusty 'Marie Antoinette' and aside from breathing fresh life into 'Back Street Love' and 'It happened Today', the band launched themselves into several bombastic psychedelic passages with violinist Paul Sax a mesmerising presence and guitarist Kit Harris supreme. And with the exception of the overwrought piano led 'Metamorphosis', they beautifully recreated the music of an era when adventurous playing met the notion of a vibe head on. The psychedelic light show provided the perfect backdrop to an evening high on nostalgia but infused with brilliant timeless music.

Review by Pete Feenstra, photos by Noel Buckley and Andrew Lock