CARAVAN : rockmagicians from Canterbury
Peter Bruyn, Utrechts Nieuwsblad, 24 september 1997
Some pop musicians you don't really ever expect to make a come back, not after they've been away from the music scene for such a long time. But as far as taste, artistic mixes and revaluation are concerned, nothing seems impossible during these last few years of the second millennium. Take CARAVAN for instance, a band from the Canterbury region in the south of England. When they first came on the scene, they were a peculiar, but not very conspicuous part of a trailer of the symphonic rocktruck that rumbled through the United Kingdom during the first half of the Seventies. After having led a kind of hibernating existence for many years since the late 70's, the band is doing some concerts again in Holland, having last toured here in 1978. This doesn't imply that something like that happening instantly is a main topic of the day, but the fact that a fanclub of some sorts, with a few hundred supporters - The Continental Caravan Campaign - has been operational out of Amsterdam for a considerable amount of time now, is curious to say the least.
The band that, at he start of 1968, evolved out of the now legendary Wilde Flowers, has somehow always been slightly more appreciated in Holland than in most other countries around us. I call the Flowers legendary because, after having started out in 1964, they eventually split up into Caravan on one hand and, the more jazz orientated (and also better known and more influential) Soft Machine on the other. Both bands played at the famous Kralingen-festival, our own Dutch Woodstock, in the summer of 1970. More interesting is the fact that later that year, in October, Caravan managed to occupy the lower regions of the Veronica Top-40 (they got to no. 22) for a period of 4 weeks with the song " If I could do it all over again, I'd do it all over you". In other words, a 'hit' so to speak. And that's something they never managed to do anywhere else in the world, not even back home, in England.
Originally, in 1968, Caravan consisted of vocalist/guitarist Pye Hastings, keyboardman David Sinclair, David's cousin Richard Sinclair on vocals and bass and Richard Coughlan on drums. Pye's brother, saxophonist and flautist Jimmy Hastings, was officially not a member of the band, though he could be heard on a lot of the band's early material. With that line-up they recorded their first three albums- to the Caravan purists still the best stuff they've ever done. Their 3rd album, 'In the land of grey and pink', released in april 1971, was the - relatively speaking - success album. This was probably mainly due to the inclusion of the epic 'Nine Feet Underground', which lasted a staggering 22 minutes and 40 seconds, thus taking up the complete second side of the album. Could it get anymore hippier or psychedelic than that ?
That same year The Byrds did something similar with 'Eight Miles High', which is of course a kind of funny title-resemblance. In 1968 Iron Butterfly had already recorded the song 'In-A-Gadda-Da-Vida', which also took up a whole side of the album with the same name. 'Atom Heart Mother' of Pink Floyd took up a whole album side in 1970. The same goes for the 'What Love' suite from The Collectors (1968), 'Get Ready' from Rare Earth (1970), etc. etc. Songs that took up whole sides of albums became synonymous with 'progressive' rock. And yet, after nearly 30 years, most of the albums mentioned before seem to have cemented a more solid place in rock history than 'Nine Feet Under ground' has done.
After three albums in as many years, some internal tension started to develop within the band. To some extent the first euphoria had disappeared . Several musicians had started a family and retreated somewhat from the commune-like existence which had characterised the early beginnings of the band. Bandmembers left to start work on other projects, and sometimes returned, or were replaced by other musicians. One of the new arrivals was viola player, and later on also guitarist and flautist, Geoff Richardson, who brought a whole new dimension to the Caravan sound, especially during their live gigs. He played a remarkable and important part when they recorded their fifth album in 1973, with the curious title 'For Girls Who Grow Plump In The Night'. After all these years it is the best, and least dated Caravan album of all, full of lively melodies, beautiful vocal harmonies and glorious horn- and string arrangements.
Unfortunately for the band, after that album it all went downhill. With the more 'accessible', but also more anonymous 'Cunning Stunts', they tried to break into the American market in 1975. It was the beginning of the end. Punk had raised its ugly head and delivered a deadly blow. Within the confines of 'psychedelic' or 'progressive' rock, Caravan wasn't a match for the inventiveness and ambitions of Pink Floyd. But they also lost out to the artistic-intellectual concepts of Peter Hammill's Van Der Graaf Generator and the charisma of Peter Gabriel's Genesis. A style of their own, their love for music, integrity and perseverance, those are the ingredients which had always sufficed for Caravan. But although the band seemed critically rather well acclaimed, those ingredients weren't sufficient enough to give the band their so well deserved commercial breakthrough. Nevertheless, in the 90's they decided to have another go at it. Two new albums, the rather lacklustre 'The Battle Of Hastings', and the kind of 'unplugged'-compilation 'All Over You', were only purchased by the diehard fans, who had stayed faithful to the band over all those years.
Notwithstanding that, The Continental Caravan Campaign has managed to persuade the band to do a couple of concerts in Holland. The first ones since 1978 ! In Tilburg, Groningen and Saturday in The Tivoli Theatre in Utrecht. Founding member and most important songwriter, Pye Hastings, who nowadays earns his crust from the hiring out of earthmoving machines, will be there. Original drummer Richard Coughlan, who nowadays runs a pub, will also join in, as well as original keyboardman David Sinclair, who at present runs his own piano business back in England.
The only absentee from the original line-up will be Richard Sinclair, who said the following about the present-day music of Caravan in an interview : 'Personally it doesn't excite me anymore; I find their music too superficial. I couldn't and wouldn't want to play that sort of music with them.' Of all places, Richard will soon take up residence in Harlingen, in the north of Holland. Those people who purchase three tickets for the CARAVAN-gig in The Tivoli Theatre in Utrecht, will receive a free 2CD of the concert, which will be recorded live that evening. Fanclub president Jasper Smit has already stated that the fans will be coming from all over Europe. A pilgrimage. A caravan ?
Tivoli Utrecht, saturday 27.09.1997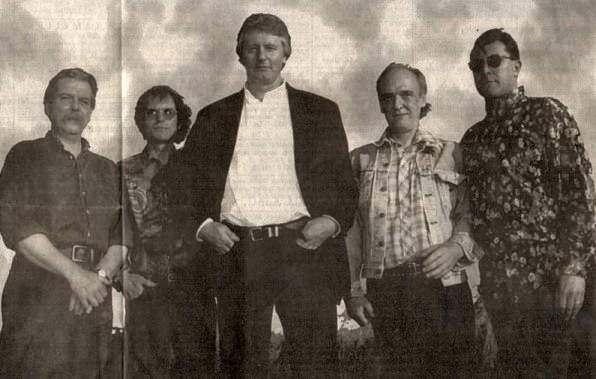 Pye Hastings and Geoffrey Richardson live in Utrecht, saturday 27.09.1997