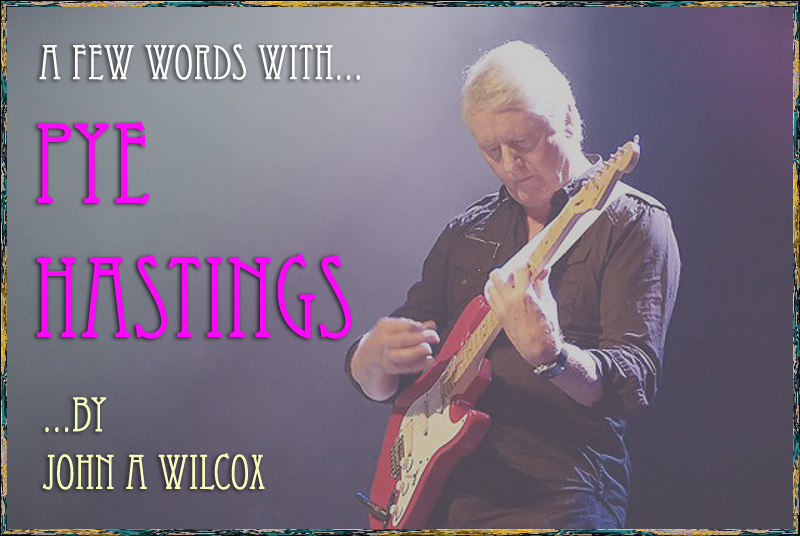 Progsheet - A Few Words With...Pye Hastings
Where does one start? For Girls Who Grow Plump In The Night. Waterloo Lily. If I Could Do It All Over Again, I'd Do It All Over You In The Land Of Grey And Pink. The list goes on! Pye Hastings is the frontman, heart, and soul of Caravan. Perhaps the Canterbury band.
Progsheet was lucky enough to talk our beloved Mr. Hastings into doing an interview. Enjoy - he's quite the charmer...
PS: Where were you born?
PH: I was born in January 1947 in a small village called Tomnavoulin in Scotland, during one of the worst snowstorms ever recorded. As the birth grew near, the midwife (who lived quite a few miles away), was summoned. She bravely battled her way there on foot because no vehicles could penetrate the drifting snow, but I had arrived before she did. My mum was assisted by my sister Jane in the delivery, and as I was the youngest of five, I expect that it was all just a bit routine. However I was duly inspected and passed fit for purpose. By the way the house was called "Roadside of Croftbain". This proved quite amusing later on in life when I tried to get a replacement passport. I had inadvertently washed the old one in my jeans, and needed a new one urgently as we were about to go on tour in France with the band. The Asian guy who was dealing with my case in Petty France, London, couldn't get his head around that the "Place of Birth" on the passport form read as "Roadside, Tomnavoulin". He kept saying "You poor Chap" because he was convinced that it was the location of the birth; literally by the road.
My parents had recently returned from India where they met and were looking to put down some roots in my father's homeland. He had been a manager working for the Bank of India and had come home because they were worried about the supposed arrival of the Japanese. As I understand it, the Japanese had got as far as Burma and their target was India. The whole country was in upheaval and anyone with the slightest chance got out before the proverbial hit the fan. My Grandmother stayed on!.
All of Europe was recovering from the war and I will never know how my mum coped having come from a fabulous lifestyle in the old Raj to a pretty bleak existence in the far north of Scotland. She had had servants all her life and had come back to a very different country from the one she'd left and where no one was prepared to put up with any airs and graces, so she had to learn the basics very quickly just to survive. That generation were clearly very strong and would not give in.
PS: Was your family in any way a musical family during your childhood?
PH: My father was a brilliant piano player and lived his life for music. However coming from an Aberdonian Scots background where the playing of music was definitely encouraged, it was still very much expected that you took a proper job first. The choices were first the "Forces" second the "Church" and third "Banking" and preferably a position abroad which produced a better standard of living.
When I was about three months old my mum bought a small house and we all moved to Tomintoul, a village about seven miles west of Tomnavoulin. It must have been a bit grim but they still had all their belongings which they had brought from India, lots of silverware and Bone China (chipped of course) and lots of books. Pride of place would certainly have been my father's baby grand piano which must have seemed a bit incongruous in a small croft, but in those days (before television) they made their own entertainment. He still worked in the local bank (part time) and also taught music, so time at home would have been definitely spent round the piano or listening to the radio.The music would have been predominately "show songs" by Cole Porter and Noel Coward etc. I only know this because of the huge number of music books that he had.
PS: How'd you acquire the nickname Pye?
PH: I was born Julian Frederick Gordon Hastings but for some unknown reason my mum at some point decided to call me Pye. I have never been able to get a satisfactory answer as to why or even what it means but there you are. Later on in life she reverted to Julian.
Strange people, parents!!
PS: What was the first instrument you ever purchased and why did you choose it?
PH: The first instrument I owned was a Harmony Sovereign acoustic guitar which was given to me by my sister Jane on my 17th birthday. I had always loved music but had not shown much interest in playing until then, and certainly couldn't read or write a note,(still can't) but as soon as I got the first couple of chords under my belt, I was away. A bit late to start I grant you but music is very much like Herpes, once you have got it in you, you can never get rid of it.
I loved that guitar and kept hold of it for many years to come but one day I was feeling charitable and gave it to a friend on loan, because his own guitar was utter crap,and never saw it or him again. I did of course have others by this time so the loss was purely sentimental.
PS: What was your very first paying gig as a musician?
PH: The first paying gig I did was with a band called the Wilde Flowers. Brian and Hugh Hopper, Robert Wyatt and me. Brian played tenor saxophone, Hugh played bass guitar, Robert played drums and sang lead vocals and I played guitar and sang harmonies.
It was a "Battle of the Bands" at Dreamland in Margate and we played our hearts out and came joint first. We all got a small fee for performing, but the top prize was a day's demo recording at a local studio. Well as it turned out there was no such thing as a local studio, just a guy with a couple of mics and a Ferrograph tape recorder in a village hall, so our dream of hitting the big time took a bit of a blow. Still perceived misfortune is a great teacher and it certainly made our resolve to carry on all the stronger.
Next time would be different!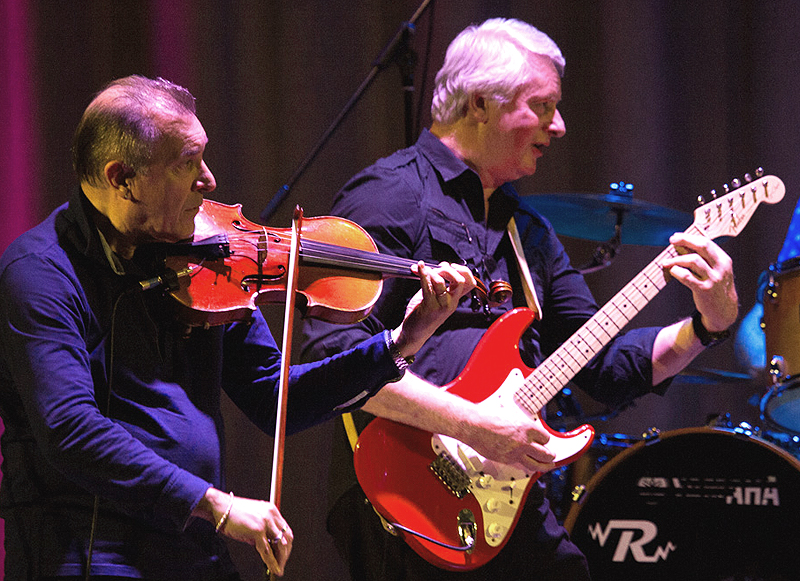 PS: How did the original incarnation of Caravan come together?
PH: I started Caravan after the demise of the Wilde Flowers group.The Soft Machine had just formed and were beginning to make some headway with the likes of Pink Floyd at gigs such as the Middle Earth club in Covent Garden and Hugh Hopper who was our bass player decided to join them as a roadie leaving us short of a bass player.
I was determined to carry on playing albeit in a different direction to the Wilde Flowers, and Richard Coughlan was the first to throw his hat into the ring with me. Dave Sinclair, who had briefly joined the Wilde Flowers on bass to replace Hugh ,would not be tempted back to continue where he left off on bass as he had decided he was better placed playing the organ that he had recently bought. This created a vacancy for a bass player in order to complete the lineup. Dave was definitely in and suggested asking his cousin Richard Sinclair to join as he had just finished his degree course at Canterbury Art College and was at a loose end. He had also been a founding member of the Wilde Flowers before he left the band to continue his art and design studies. I was Richard Sinclair's replacement in the Wilde Flowers. Richard ,like me, was a guitarist so in the very early days of Caravan we both shared the bass playing duties but it rapidly became clear that he had a natural talent for playing the bass and I willingly gave up that job.
Caravan were now an entity in it's own right and we started compiling a set of our own material, written by Dave, Richard and me. Richard Coughlan had a very clear eye for arrangements and he contributed creatively in this way as well as playing drums. Of course it was not all sweetness and light. Playing locally had it's own pitfalls. We were always well received well in our local club, the Beehive in Canterbury, but when we played places like the Medway towns believe me it was a different matter. They really just wanted chart topping bands or at least cover versions of current chart material but as we only did our own unknown songs it would inevitably provoke a challenge laced with latent aggression.
We had grown our hair long and wore colourful clothing which raised the interest of some of the local girls who seemed keen to chat. The local lads didn't take kindly to that and would refer to us as "Fucking Weirdos and Poofs." If you were discovered chatting to the girls you would inevitably be challenged by the lads by the proverbial "Ere, You looking at my bird?' No mate, you would reply rather meekly. "Why not, what's wrong wiv her?" There was no way out, you felt like you were going to get thumped no matter what you said. Anyway - once the gig was over you played the game of "Find the Promoter" which sometimes proved tricky. Once you had got your hands on the money you would pack up the gear, load the van and head for home as fast as you could, dividing up the proceeds on the way.
PS: One of the hallmarks of Caravan is an element of lighthearted humor to many of the lyrics. How important is humor to music?
PH: I find that most bands who survive more than a couple of years will share some common ground which binds them together. Firstly must come the liking of the music and the direction you are going in,secondly must come the unique camaraderie and respect for one another which all groups have to a certain extent and thirdly must be humour. This generally manifests itself in joke telling/swapping and is a great binding force and a panacea for all ills that get in the way.When we felt that times were bleak we would turn to Richard Coughlan who,having the Irish gift of the gab, would have us in stitches with his delivery and comic timing.He had a never ending supply of jokes that would keep us refreshed and giggling for days. So it seemed a natural progression for us to incorporate some of the humour into our song lyrics. Life is so much better if you can laugh at the seriousness of it.
PS: In The Land Of Grey And Pink is seen as a landmark in the band's career. Were the band aware at the time that they were on to something special, or was it no different than working on the previous 2 albums?
PH: Grey and Pink our third album, was at the time of rehearsing always going to be our big chance to break through into the wider world. They say the third one is generally recognised as the most tricky. It will either make or break. We had come along way from being just another local band and we didn't really have a clear vision of how far it would go, but David Hitchcock, our producer, certainly did.
He was the real unifying force who pulled us all together in the studio through sheer determination and vision and created the album that is still selling today, 40 years later. Remember these were the days of 16 track recording, on equipment which nowadays would seem to young, modern engineers like absolute antiques, probably driven by steam. Of course you have to have good material to work with and in the wrong hands it can turn out to be seriously mediocre but in the right hands. Magic.
David was really the person who put us on the right path. He proposed becoming our producer prior to us recording our second album, If I Could Do It All Over Again, but we were young and a bit arrogant and decided that we didn't really need a producer and proceeded to do the job ourselves. We eventually saw the light. Compare the two albums production wise and it really is a no contest which one is better. Another lesson learnt!!!
PS: During the time of Grey And Pink / Waterloo Lily / Girls Who Grow Plump, what guitars and amplification were you using in the studio?
PH: I played a Fender 12 string electric guitar through a Fender Twin amp. I still use Fender amps exclusively for recording. I remember at the time asking our manager Terry King, for money to buy a fender Stratocaster so I could start doing a few solos. He was reluctant to part with the money and asked "Why do you need another Fender guitar? You already have one." I explained that the Strat was a 6 string and would have a noticeably different sound to the 12 string and I really really needed it to record with. His reply was "If you don't need 12 strings then why don't you just take 6 strings off the one you have got?" I was never really sure whether he was joking or not. Suffice to say I did take six strings off the 12 string guitar and continued playing with that one for many years to come much to the confusion of other guitarists who couldn't work out how I was able to do bendy note solos on a 12 string.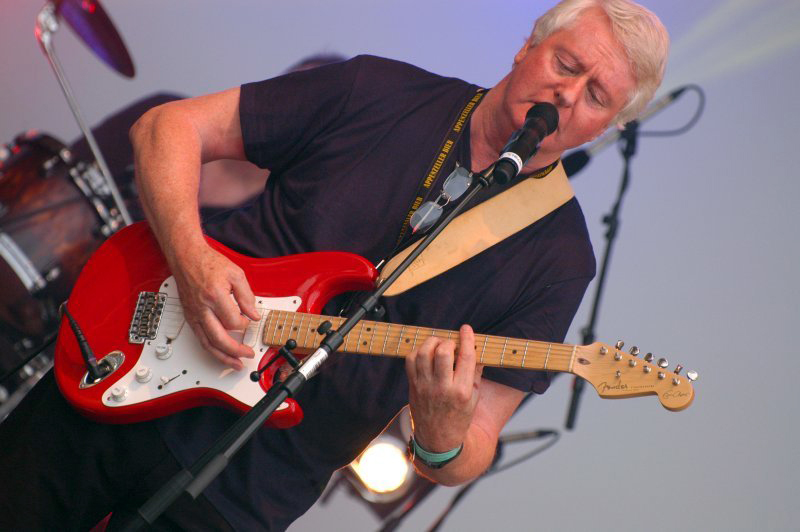 PS: At the time of For Girls Who Grow Plump In The Night, Geoffrey Richardson joined the band. From a recording and live standpoint, how did that change what the band was able to achieve?
PH: Geoffrey joining the band was a landmark and a pivotal point in our development as a performing band. We had yet again reached a crossroads in our career and it was down to Richard Coughlan and me to re group after another spate of people leaving the band for pastures new. We were just initiating auditions for replacements when I was made aware of Geoffrey by a friend called Doug Chandler who was singing his praises as a great young blues player, but on viola. He was fresh out of Winchester Arts College. I thought this must be interesting and arranged a jam session at Graveney village hall. We played for quite a few hours and I was totally blown away by his natural talent and his grasp of Caravan songs. Don't forget we had been experimenting with compound timings and nothing seemed to faze him. Naturally we talked a lot and very quickly found the common ground of humour, so I decided there and then to offer him a place. He fitted in so naturally that it breathed hope for the future into us. He was a good looking guy, a multi talented musician with a natural stage presence and a clear sense of direction and a great "Frontman". What's not to like?
He also had a good eye for fashion and made his mark immediately by wearing proper stage clothing. Something we sorely lacked prior to him joining. The management had endlessly been encouraging us to be more adventurous in our stage outfits to no avail and now they had their answer. Recording wise there was no limit to the number of instruments he could get a tune out of.
PS: Let's discuss a few songs. We'll start with the Oik sequence from Blind Dog At St. Dunstan's..
PH: There was no real inspiration behind the lyrics apart from wanting to get the expression "A very smelly grubby little Oik" into a song. This I suppose goes back to my school days when , somewhere in my memory, I recall being referred to as that by one of our school masters. I was always a bit cheeky and regularly got the cane for my efforts. None of us in our class minded getting a bit of light corporal punishment if it was deserved, and in my case, I'm sure it was. Of course it hurt like hell but it was like a badge of honour to show off to your mates. Imagine that nowadays!!!
You as much as lay a hand on a child or look at them and you are accused of being a paedophile. How the hell do teachers cope? I haven't listened to this song sequence for 20 years or more so I had to search it out and listen all over again. What a good thing it is to revisit. It brings back lots of memories particularly how much influence David Hitchcock had on the final recording. His production is really superb and it sounds very expensive. This is the real advantage of having a recording contract. David, being the producer, would of course have had to budget for it with Decca, but it seemed no expense was spared in getting backing singers, hiring in mobile recording studios and extra instruments like Hammond organs etc and being able to afford session musicians of Jimmy Hastings's calibre. The results speak for themselves.
In the song I was using quite a few jazzy chords which I have completely forgotten and I cant believe how high I used to sing. I certainly can't get to that register nowadays. Gravity has taken over in more than one department and all sopranos have left the building!!!
PS: Crack Of The Willow.
PH: When I write lyrics to a song, most times I struggle to find a direction. This one just leapt out at me. I always write the tune first and have to fit the lyric to the melody. Not an easy task, phrasing wise. I really admire people who can effortlessly write meaningful lyrics to a melody.The classic example is Elton John. I watched a TV documentary about him where he was given a Bernie Taupin lyric and in a matter of minutes had written another fantastic song. What an extraordinary talent.
I am not much of a cricket fan and I couldn't recall having heard a song about cricket so I applied myself and it just poured out. The only time I played cricket was at school so memories of white flannels, Pads, linseed oil and uncomfortable cricket boxes all came flooding back. You must have heard this a million times before that a song will either take five minutes to write or can drone on for months before you get a result. This was my first "five minute job" if you will excuse the expression. I no longer have a copy of this album so had to work from memory (I have kept all the good ones), memories that is. Accessing them is the problem.
PS: Dead Man Walking.
PH: I have always been intrigued by the American expression "Dead Man Walking", and I didn't really know what it meant until I saw the film called that. I love the way some Americans are able to express a whole sentiment with the minimum amount of words. Classic examples like (A Wardrobe Malfunction) for an embarrassing tits out moment or a "Used" car being referred to as (Previously Enjoyed), or even "Unauthorised Breakfast Item". They all tickle me. I certainly don't agree with the death penalty. The powers that be don't always get it right; so there is enough doubt for me to question whether some innocent people have been put to death wrongly. All systems, however good, need reforming at some time or other in order to keep up with the changing times we live in and while the Jury system is still the best we've got, it does good to remember that we are all fallible and mistakes can and will be made. That said I don't know what adjustments could be implemented to improve the system. When I played the first e minor 7th to e minor 6th chords, the words "Dead Man Walking" immediately offered themselves up and the whole song fell into place. There are no answers in the song, just a heartfelt emotion that hopefully will cause people to question what is being done in their name.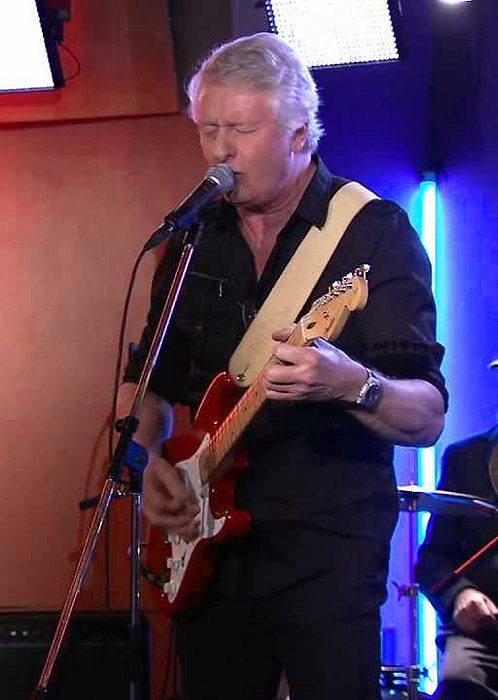 PS: Stuck in a Hole.
PH: We never intentionally set out to write a single as such but generally speaking the most suitable song of any batch would be selected and produced with a single in mind. This is a necessary tool to be able to plug your latest album in that some songs are more radio friendly and will hopefully get airplay. Nowadays record companies release snippets of the most commercial songs as downloads on YouTube as "tasters" and for free, but a single is still very much valid and can be a work of art in itself.
PS: Virgin On The Ridiculous.
PH: We had recently recorded an album which featured an orchestral arrangement with the New Symphonia Orchestra, and it was suggested by Martyn Ford, the conductor, that we should work together some more by doing a live concert. Our manager Terry King thought this was a brilliant idea and approached Decca Record Company with the idea of funding a recording of the concert as a Live Album. They agreed and the idea of performing at the Theatre Royal in Drury Lane was put forward. I don't think any rock band had performed there before so it was going to be a first for them as well as us. I was given the task of writing four new songs with only about four weeks warning before the concert and Virgin On The Ridiculous was one of them. The song title reflected my doubts about being able to pull it off. There was to be no vetting of the material prior to the concert. It was just (Get it together and it will be alright on the night). Clearly someone had faith in me.
Live concerts can be tricky things to get right. There are so many considerations to be taken into account like the acoustics of the venue, the sound of the PA, the lighting, the crew, the backing singers, let alone having to worry about playing to a discerning audience with a large number of unfamiliar musicians in a very prestigious venue. Each one of these will put a different pressure on you. Team work at these times is essential and we were very fortunate to have a very talented bunch of guys around us (The Crew) so the pressure was thankfully shared. I had done a demo of the new material and sent it off to Simon Jeffes who was going to write an introduction piece and also to Martyn Ford for writing out the arrangements. The day before the gig we had one four hour rehearsal session with the orchestra to run through the arrangements for the first time and another rehearsal on the morning of the concert at the Theatre Royal. This was where I met the backing singers for the first time. My nerves were on high alert. I remember we only had time for me to run through the new songs with the singers (once) while the rehearsal was going on. They were brilliant and instinctively knew what I was looking for. One less thing to worry about! Normally we (the Band) would be positioned at the front of the stage but due to complaints from the string section that we were too loud, we were repositioned at the back of the orchestra with our amps tilted up so as not to offend the said string players. Heavens sake we are a rock band! And it may surprise some people that rock bands play loudly. The string players seemed to project an attitude that rock musicians were something akin to an inferior species and they couldn't wait to get it all over and done with so they could return to their proper professions; but believe me it was a sweet moment when we hit them with sections in 11/8,13/8, and 19/8 timings. Out of their comfort zone or what?
They all shifted somewhat uncomfortably in their chairs until Martyn got them under control. It was a bit smug of us I admit but as the old saying goes "Never judge a book by it's cover." I can't abide false snobbery in music, like (one type of music is better than another) and when I hear it I will generally react. The real truth in my mind is that (all music is good), there is only music (played well) or music (played badly). The concert went very well and when it came to going back for an encore the string players refused to go back on unless they were paid more. They held out that they were only contracted to do the show so encores constituted extra. Fair enough. We went on without them which was a shame, but none of the audience seemed to mind.
PS: Aristocracy.
PH: As I think I said previously, I have trouble writing lyrics, so there are a number of tools/devises that one can call on to help find some sort of meaningful story. Rhyming dictionaries, Poetry and of course other peoples lyrics. I always write the tunes first and have to fit the words around the melody, not the easiest task! I have always loved reading poetry and in this case I was glancing through a collection of poems by GK Chesterton when I came upon a brilliant poem called The Aristocrat. It captured my imagination and I felt that I could use it as the inspiration for the song. I found the poem really interesting because GK (in case you didn't know) was a minister in the church and had written about the Devil; not something you find everyday? Anyway I would encourage anyone to check out his writings.
PS: Caravan has had some stellar bass players through the years. I'd like to ask about 2 of them. First - Mike Wedgwood. How did he get the job and what do you feel he added to the band?
PH: Mike got the job as Caravan's bass player via a process of auditions. We were looking for a replacement and Mike came with a recommendation, I think, from David Hitchcock. He had recently been playing with Curved Air. He had his own gear and could drive!!!. ( No more having to run around picking up bass players and their gear). That was a result. We auditioned quite a few guys for the position, but he was clearly the outstanding candidate. He clicked immediately with Richard Coughlan so the rhythm section was back up and running.
He was a very good, solid bass player, more rocky than previous players but the real talent he brought to the band was his understanding of harmonies. This was something I felt that we lacked ever since the departure of Richard Sinclair. He also had a more powerful voice than I did so that helped me a lot in being able to beef up the vocals. He was the son of a country vicar and had been a chorister at Salisbury Cathedral, hence I suppose his understanding of singing harmonies. He was somewhat vain and fancied himself with the ladies; he also loved playing cards. There was an occasion while we were returning on the cross channel ferry from a tour of France when he lost all his gig money in a game of pontoon with Richard Coughlan and Geoff Richardson. While we were docking he rather nervously suggested that as they were all good mates he didn't really have to pay the money and it was all just good fun wasn't it? Geoff took the money and never did give it back. I would have loved to have been a fly on the wall when Mike got home and had to explain what had happened to the money.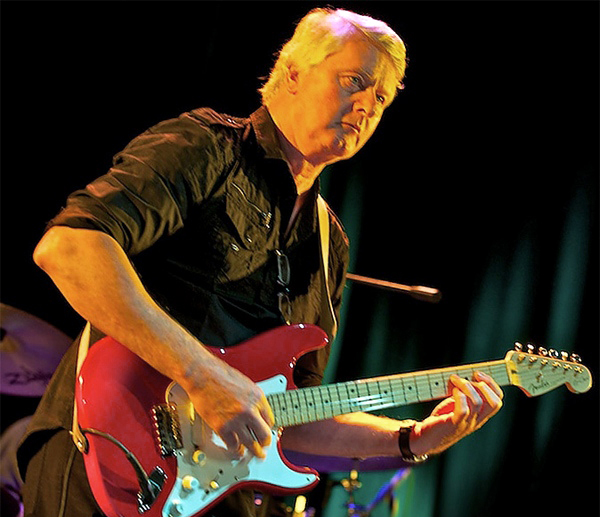 PS: Second - Jim Leverton. I knew of his work with Fat Mattress and with Steve Marriott. What is unique about his playing within the context of the band?
PH: Jim is an extraordinary talented guy. He came to the band because he had formed a duo with Geoffrey and they were playing local gigs around the Canterbury area. At first he seemed just your average jobbing bass player, but when you delved deeper into his history it appeared that he had played on an enormous number of records that we all knew. Tom Jones, Englebert Humperdink, Georgie Fame as well as Fat Mattress, Juicy Lucy, Rory Gallagher and of course Steve Marriott, and many others. He was certainly no light weight. He never boasted about his previous work, in fact quite the opposite. I always imagined Caravan to have more of a jazzy background whereas Jim definitely had a blues background. That said he is a very fast learner and adapted to our rather convoluted style of playing in no time at all.This gave me the opportunity to toughen up the band and lean my songwriting more towards the bluesier side. Something I had not done before. I learned a lot from Jim about not overcomplicating a song. The simpler it is, the more powerful it becomes. Words of wisdom.
I remember an occasion when Jim was playing only the root notes to a song and I asked him to play more runs and maybe bounce off the melody a bit. "More notes?" he said, "That means more money doesn't it?" This was my first exposure to Jim's sense of humour. He comes from proud Irish stock and definitely has the gift of the gab. He is the natural joke teller in the band. He gelled immediately with Richard Coughlan (another Irishman by descent) and they would regularly gang up on me for sport. He also has a great voice which at the outset I found very hard to get it to blend with mine but we have, thankfully, both found common ground and it is working a treat now. Jim is a powerful force but more than that he is a leveling force. He keeps us all grounded when certain egos within the band erupt he comes out with a quip that just rips the piss out of the protagonist and erupts in genuine laughter all round. Happy days!!!
PS: NEARFest in 2002 saw the return of Caravan to the US. I cried tears of joy through the entire set. Was it an emotional experience for you as well?
PH: I honestly thought our days of playing international gigs were well and truly over and then out of the blue came the invitation to play Nearfest. I had never heard of this festival but leapt at the chance of getting back to the USA, the birthplace of Rock and Roll. We had only been to the States twice before and had lasting memories of how good American audiences were, so we were genuinely excited about playing there, even if it was only for a "one off" show.
On the day of the gig we came down separately for breakfast at the Marriott Hotel and were introduced to the option of buying either the Continental Breakfast or the "Full American." Geoffrey had ordered the Full American but didn't have enough money to pay for it so I put it on my credit card. On his way out he reasoned that as it was going to be a long day(because they were going to be filming the show), he would take a bun from the Continental buffet to have for later. He was accosted by a rather large lady who came out with the immortal words, "Pardon me sir but you have an unauthorised breakfast item about your person at this time,"Whoopee I thought, what a great title for a song. Inspiration comes from the most unlikely of sources don't you think?
Anyway we duly did the show and were informed afterwards that we were the first band ever to have gotten five standing ovations at this gig. I had no idea how truly loyal and enthusiastic this audience could be.I didn't think we had played particularly well but was truly touched and honoured by the response. This is the kind of feeling that makes it all worthwhile. All those years of slogging up and down motorways suddenly fade into the distance when you get a reaction like Nearfest.
PS: David Sinclair was on keyboards again at that time and then departed once again. Has this always been his nature - to limit his commitment to the band?
PH: I think it would be fair to say that Dave Sinclair's commitment is first and foremost to Dave Sinclair. The band was probably a stepping stone to what Dave always had in mind. His own band. His contribution however has been enormous and irreplaceable. Dave is a lifelong friend and will always be a valued member of the band and he is also an absolute perfectionist which has sometimes put the two of us on a collision course. That said, I have the deepest respect and admiration for his writing and look forward to perhaps recording together one more time. From Dave I learned to have an eye for detail and in return I think Dave took from me the idea that you have to compromise to some extent. In that I mean that you do the best you can on the day. Going back over and over a thing doesn't always guarantee a better result so, do what you can and move on to the next project, p.d.q. In the next couple of weeks Caravan are playing a couple of dates in Japan so I am looking forward to hopefully catching up with him and hearing what he has been up to.
PS: If you had to point a new listener toward 3 Caravan albums, which would you choose and why?
PH: I am often asked this question.
On this occasion I would choose In the Land of Grey and Pink as my first recommendation.
This was our third album which we recorded in the 70's and I feel it genuinely captured that version of the band at it's peak. We recorded it in Decca's Broadhurst Gardens Studio in London under the guidance of David Hitchcock who produced it. (By the way this was his very first attempt at production and I have to say it sounds as fresh today as it sounded over 40 years ago). Previously David had worked in Decca's Art Dept and got his chance to become a producer from the current boss Hugh Mendl who he had approached about a year earlier with the idea of signing and producing a new young band called Caravan. We signed the contract with Decca/Deram on his recommendation and promptly dumped the idea that we needed a producer at all. Ah, the arrogance of youth!!! We hadn't been too happy with the production on our first album entitled Caravan, and felt that we could do a better job ourselves on the second (If I Could Do It All Over Again, I'd Do It All Over You). Well that album turned out just about all right but we soon realised that with David at the helm we were now able to achieve a much, much better result. Our egos had been largely put to bed and a lesson was well and truly learned. Side two of the LP is taken up with one single track, Nine Feet Underground, which Dave Sinclair wrote with contributions from Richard, his cousin, and me. It was written in sections and pieced together by Dave and we rather confidently attempted to record it in one take. We had rehearsed it as such and could play it all the way through , no problem, but recording shows up all the lumps and bumps that you don't necessarily hear when you are playing live. Naturally this proved to be somewhat problematical. The first time through one person would make a mistake. The second time through they would get it right but someone else would make a different mistake and so on. So we broke it down to it's individual sections and David Hitchcock and Dave Grinsted, the engineer, pieced the whole thing together. Bear in mind this was a time before computers and "non destructive editing". Everything was done manually so any mistake in the editing, which meant physically cutting the "16 Track Master Tape" would have been disastrous. These guys were truly brilliant!!!We, of course spent a fair bit of time up the pub while this was going on and what sounded like a complete mess when we left the studio, sounded absolutely brilliant when we got back.. Funny that!!!
Second recommendation would be For Girls Who Grow Plump In The Night
Prior to recording this album we were going through the arduous process of auditions to replace Dave and Richard Sinclair who had left the band to pursue their fortunes elsewhere. Geoff Richardson and John Perry (bass player) had been chosen but no keyboard player of Dave Sinclair's talent was forthcoming. I had a batch of new songs ready to go and a recording date at Chipping Norton studios was set, so we decided to record without a keyboard player and put one on later as an overdub. Dave latterly agreed to come back for the recording as a session player,but was reluctant to rejoin the band full time. Somehow , whatever we did, it just didn't sit right when we recorded. It felt fragmented and somewhat false. A series of tour dates was imminent and Dave agreed to do the tour because he needed the money so we shelved the recording to be resumed after the tour. Well , on the tour,we thrashed out all the bits that didn't work with the new material and when we returned to the studio we recorded the whole thing in one take. Another lesson learned! This is why I am recommending this album because all the performances are genuine; no fancy recording techniques.
Thirdly I would recommend our current album Paradise Filter.
This is where we are at today. No record contract, no deal, just the band.
We recorded this one at Canterbury Sound Studios in Kent UK and raised the money via "Pledge Music" crowd funding. What a great facility this is! The importance of this one to me is that the only people directly involved are the band and the fans who wish to buy it. You have no idea how surprised I was to get all the genuine goodwill and feedback from the fans who have loyally been supporting us all these years. Normally any feedback would go to the record company and not guaranteed to get to the artist, so this is another marker as to how the industry has changed. For the Better!!!
This is the first album we have ever owned and would be proud to welcome anybody who doesn't already have it to go to the ParadiseFilter.com website and place an order.
PS: When you're not recording and gigging in Caravan, what is occupying the rest of your time?
PH: I live in the north of Scotland, approximately 600 miles from the other members of the band so getting together for a jam is something that takes a certain amount of pre planning, so I spend most of my time writing and doing essential maintenance around the house and garden,weather permitting. This year it has been mostly atrocious, something to do with the Jet Stream having buggered off south dragging loads of cold weather down from the Arctic. Anyone who lives in a challenging environment like here will know that there is always something needing attention.
During these spells at home I write songs on my trusted Mexican, Custom Shop, Fender Telecaster, very quietly and without any amp and usually first thing in the morning when there is just me and the cats around. It really gets up my wife's nose to see me sitting amongst the detritus of the night before, unwashed and unshaved, plinking away. "Stop making that bloody racket, and get out from under my feet" is generally the soothing words of wisdom that utter from her.
Funny, after 45 years it is still a bloody racket to some people.
It's become a bit of a Pyrrhic victory for me or as they say in London "A Result".
PS: What are Caravan's plans for the rest of 2015/2016?
PH: The year is rapidly drawing to an end and looking back we have had an eventful year playing in the UK, Norway, for the first time, Sweden, for the first time and most recently a couple of super gigs in Italy.
Today it is cold and wet so I am dreaming about heading out to Tokyo in a week or so's time for two dates with the band.
Following that we are booked to play two concerts on this years "Cruise to the Edge" departing Miami on November the 14th for five days. We are supporting Yes and Marillion,. plus there will be about 20 other bands.
This is something I am really looking forward to, never having been on a cruise before. I have got images of trying desperately to remain upright whilst performing as the ship lurches from side to side as it struggles through a force ten storm.
I will have to get the drummer to practice drum rolls and cymbal crashes to coincide with the lurching.
Immediately after that we are flying directly to Mexico City for our first ever concert there. Looking forward to that too.
So far in 2016 we are booked to do a couple of festivals in the UK and a tour in march. Our agent, Nigel Kerr sorts all this out for us but what I would really like to see is a tour come in for the USA. One offs are all very well but I would love to spend longer there. Surely there must be an American promoter willing to send us an invitation to play?
PS: Can we expect another album anytime soon?
PH: I am working on about ten new numbers at the moment which I am undecided whether to put them forward for another Caravan album or whether the time is right to attempt a solo album. This is something I have put off so many times. It is a regular occurrence and traditionally I end up doing a Caravan album, so we will have to see. What do you think?
PS: Please tell me 6 albums you never tire of listening to.
PH:
1) Blonde on Blonde by Bob Dylan.
2) Love by the Beatles.
3) Abandoned Luncheonette by Daryl Hall and John Oates.
4) Aja by Steely Dan.
5) Hotel California by the Eagles.
6) Anything by Stevie Wonder, 10cc, The Average White Band and Tears For Fears.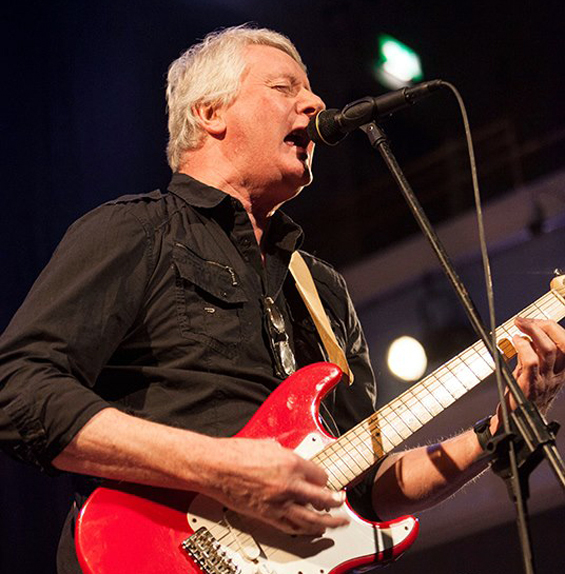 I would like to thank you again for your kindness, Pye. I have one last question: music listening devices have gone through dramatic changes from the 60's until now. From vinyl to CD, and last but not least the super recent "seamless listening". How do you perceive this metamorphosis of the music industry?
I am worried by the changes in the music industry, particularly by the trend for all music to be free. I have done other things to pay the bills when times were hard but have always gravitated back to music as my true career in the understanding that I would, at least, be able to pay my way. I wouldn't expect to get a house or a car for free. Someone has had to design and build these things and surely the same applies to music. If we don't get paid, we don't eat! I accept that technology has advanced beyond our wildest dreams and it is wonderful to have the latest gadget to play music on( which of course we are all prepared to pay for) but if the music writers don't get paid then the whole recording process could dry up and we would be stuck with listening to "Boring Old fart Music" for the rest of our lives. Thank you.

Interview for progsheet by John A. Wilcox (2015).

For the complete interview click here.