Thank you for taking out time to answer questions for our magazine IO Pages www.iopages.nl

Mark, can you introduce yourself to our readers: your background, your musical history, whether being a musician is a full-time occupation?
Hi André, and many thanks for your interest! My musical history is long but not all that interesting, so I'll be brief - I spent my early years playing in bands trying "to make it" as we say in England, then went down the session route, and also became a percussionist. Over the years I've recorded at all the top studios including Abbey Road and Air Studios, played the major UK venues such as the Royal Albert Hall, Festival Hall, and virtually all the major festivals including 5 times at Glastonbury, twice on the main Pyramid stage. I even did percussion for a while in the Lion King in the West End!!! Being a musician is a full time occupation, but these days, apart from playing with Caravan and a fantastic blues guitarist called Steve Morrison, I basically earn my living from corporate events, providing drum groups and "energisers" (short workshops) at conferences and events, see www.corporatedrumming.co.uk

Have you always been a drummer, and who are your role models in that respect?
I've been drumming since I was 6 (and I'm 52 now, so that's basically 46 years), and although not always professionally, for most of my life that's how I've earned a living, but I did also get a degree in the education of children with severe learning difficulties and taught for several years back in the nineties. My role models, or indeed inspirations on the drums are numerous, but if I had to just pick a few it would be Neil Peart, Steve Gadd, Phil Collins, John Bonham, Ian Paice, Kenny Aronoff (who did all the great John Mellencamp stuff in the 80s), and of course the late great Richard Coughlan.

How did you get to join Caravan?
Well, I had a call from an old friend Martin Davenport who runs the band's website, and he said the band were going to be filming a live show for the ITV Legends series, but that really sadly Richard was no longer able to play drums for a whole gig. He asked whether I'd be interested in helping out, doing some percussion and double drumming with Richard, and, being a fan, of course I jumped at the chance. But even more sadly, when we came to rehearse Richard wasn't able to play drums at all, so we swapped roles from the original plan, with me playing kit and Richard doing percussion. The first rehearsals were nerve racking, but a lot easier than I anticipated, Richard and the band were very open and really welcoming to me, but there weren't enough rehearsals! We got together for a couple of days in October and the plan was to then do 3 days before the Legends show at Metropolis. But the weather was a nightmare, and in the end, because of the snow we only had half a day, so we did a couple of run-throughs, learned a couple of new songs, and flew by the seat of our pants at the gig! Amazing what sheer terror can do for a performance!!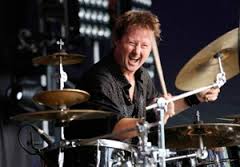 Do you also play in other bands?
Not really any more, as mentioned above I have a duo with a fantastic blues guitarist called Steve Morrison, he has a unique style where he plays bass lines with his thumb whilst picking out rhythms and solos with his fingers, check out this url if you want to see and hear it: www.stevemorrison.eu/Morrison&Walker I also occasionally play for a local band where I live, the Tar Babies, which is great fun, especially as quite often Lee Pomeroy from Steve Hackett and Rick Wakeman's band is on bass, and it's great playing old 60s and 70s hits with him - he's left handed like Jim Leverton and, like Jim, has a great groove and is a listening bass player.
During concerts you seem to be a super fan of Caravan yourself, seeing your enthusiasm. You are however considerably younger than the others, how is it to work with these "old men"?
What a great question and one I have to be careful when I answer!!! To be honest, it's great working with them, they may be old but they are still fine musicians! And I'm actually only 14 years younger than Pye, 12 years younger than Geoffrey, so there's not that much difference. It's fun being on the road with them, they are all quite set in their ways and have their own little quirks, as do I, in fact I have more than them, so to be honest I'm glad they put up with me! They have a great love for one another and a shared history with many ups and downs, so I feel very privileged to have become a member of their private club.
Paradise Filter is the first studio album you have worked on. As usual Pye Hastings had a big role, what has been your part?
I'm just the drummer, I know my place! To be honest, that is actually my part really. Pye brings the songs to the studio for us to jam around and arrange, and on the whole he allows each musician to bring their own voice to the music, so basically my contribution is the drum rhythms and beats, it's as simple as that.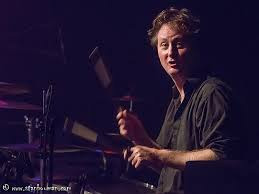 What is your favourite song on the new album and why? And what is your all-time favourite Caravan song to play?
My favourite song on the new album is Trust Me I'm A Doctor, I love the feel and rhythm of it, I think it's classic Caravan with a tongue in cheek lyric and it creates a really happy feeling. My only disappointment with it is the drums are very low in the mix, but as a song to play it's great, and I'm going to do my best to make sure it's in the set for the up coming tour. I also love I'll Be There For You, I think that is epic, a beautiful melody that soars over the music. My favourites of the old songs to play are Nightmare and Nine Feet Underground, I think they are the most musical and also are the ones we "jam" the most on, so they are never quite the same from gig to gig, which means more often than not they are highlights in the show, with soaring solos from Geoffrey and Jan, and there is a real chemistry between everyone in the band playing off each other.
What can we expect during the coming concerts in 2014, will the set list be renewed?
Absolutely the set list will be renewed, obviously there will be some new ones from the Paradise Filter but there will also be one or two surprises, I don't want to give too much away otherwise it won't be a surprise, but I am very keen, and have been quite vocal in impressing on Pye and the band, that we need to ring the changes to keep it fresh for ourselves and the audience. Of course there are certain songs we will always play, and as a fan if I was coming to the gigs I would expect to hear those songs, but I have a feeling that this tour is going to be the best since I joined and I think the fans will agree...!!
What do you see in store for Caravan in the next few years: will the band keep touring and making albums or will this be "the last act"?
It certainly isn't intended to be the last act, I think everyone has a fire in their belly to keep touring and gigging, there's a great atmosphere in the band, we're all enjoying the response we're getting at the gigs, everyone's excited by the forthcoming tour having really enjoyed the Dutch and Belgian dates we did last November, so I think we'll be going for as long as we can keep doing it!