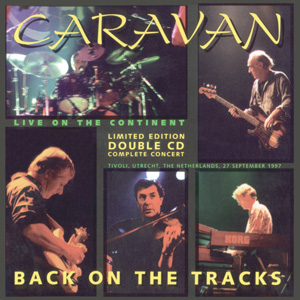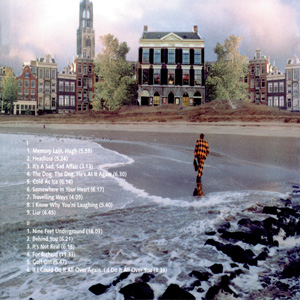 BACK ON THE TRACKS (1998)

Recorded Live 27 September 1997, Tivoli Utrecht, The Netherlands

TRACKLIST
CD1
1 Memory Lain, Hugh (5:59)
2 Headloss (5:24)
3 It's A Sad, Sad Affair (3:13)
4 The Dog, The Dog, He's At It Again (6:30)
5 Cold As Ice (6:14)
6 Somewhere In Your Heart (6:17)
7 Travelling Ways (4:09)
8 I Know Why You're Laughing (5:40)
9 Liar (6:45)
CD2
1 Nine Feet Underground (18:03)
2 Behind You (6:21)
3 It's Not Real (6:18)
4 For Richard (11:33)
5 Golf Girl (5:47)
6 If I Could Do It All Over Again, I'd Do It All Over You (3:39)
LINE UP
Simon Bentall (percussion)
Doug Boyle (lead guitar)
Richard Goughlan (drums)
Pye Hastings (vocals, guitar)
Jim Leverton (bass, vocals)
Geoffrey Richardson (viola, mandolin, flute, spoons, vocals)
Dave Sinclair (keyboards)
VERSIONS
year/format/label/cat/country
1998/2CD/The Continental Caravan Campaign/CoCaComp*Act001/Netherlands
2005/2CD/The Continental Caravan Campaign/CoCaComp*Act001/Netherlands
2014/2CD/The Continental Caravan Campaign/CoCaComp*Act001/Netherlands


How to order ?
Prices are:
- Europe 17,50 euros
- Non Europe 20,00 euros
All prices are including P&P and VAT
Just send an email to our Merchandise dept. (Swee)
You will receive an email from CoCaCamp* with details and a payment instruction.
The webshop is not automated, but run by real people, this means the confirmation mail is not allways sent instantly, but may take a litte time.

Please note that all profits are at the band's disposal for new projects!